LEATHER MEDIC IS THE LEATHER REPAIR AND REFINISHING EXPERT
Leather Medic® is a mobile service business specializing in leather repair and refinishing. In addition to our technicians being mobile, they are uniformed, professional, licensed, insured, and the very best in the leather repair and refinishing business. Our highly skilled Leather Medic® technicians can clean, condition, repair and refinish or re-dye all types of leather.
Leather Medic® is the repair and refinishing expert! Leather Medic® specializes in automotive leather and vinyl repair, leather furniture repair and refinishing, marine craft leather and vinyl repair as well as commercial leather and vinyl repair. 
Leather Medic®'s founder, Chade Life, is part surgeon, part artist and part magician. Although reluctant to say it himself, he is probably the finest and most skilled practitioner in the country. Chade spent over twenty-one years refining his craft. He recognized that there would be a significant and ongoing demand for expert craftsmen who mastered the art of repairing and refinishing fine leathers.He was surprised to learn at the time that there were only three individuals (now retired) in North America with real expertise in this area. He studied with each of them and worked hard through the years to develop his leather expertise. Over time, he developed a process and method that raised the art of leather repair to a new level.
Leather Medic has specialized in Leather Restoration for over 30 years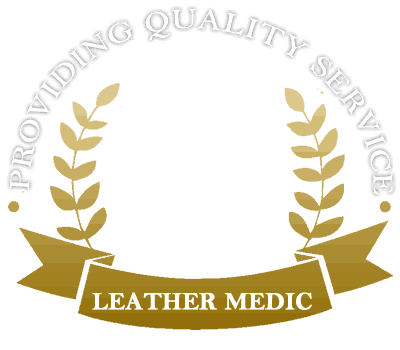 Vehicles, boats, furniture, and so much more. If it's leather, Leather Medic® can repair it!
We had severely damaged Natuzzi leather sofa and chairs where the cording was frayed, the leather was split from student damage. Kudos to Chade and Martin for restoring this expensive furniture and making it look new again.
Dear Chade and crew, My husband and I are still overwhelmed by the outstanding job you all did on our jag. It looks like a New Car, The time, efforts and skills are so greatly shown and appreciated. We can't wait to show "Her off and sing" your praises.Thanks again, sincerelyMeg and John
Many thanks again. The work you did was great and the professionalism and personal service with pick up and delivery is a plus. I will not hesitate to recommend you to anyone. Keep up the great work!!