An RV is a worthwhile investment that can last years with the proper upkeep. However, mold, water damage, and dirt can rapidly wear down the interior quality of your vehicle. Complete a stunning RV remodel before and after your next big camping trip with help from reliable professionals.
To improve the comfort and beauty of your RV, follow these steps from our team at Leather Medic in Fort Myers, FL.
Repairing Mechanical Damages
A broken-down RV is of no use to anyone. Whether you own a new or old vehicle, inspect it for mechanical damage before renovations. Common RV problems include:
Power issues
AC systems failing to cool or heat the interior
Fluid leaks
Tire wear or rot
Engine failure
Planning Your RV Remodel Interior Design
Thoroughly plan your RV remodel interior design before purchasing any materials. Don't forget to consider your budget limitations when committing to an aesthetic.
Do you want to open your space up by stripping the interior of large furniture and appliances? This design may require you to map your renovation on paper to achieve the best results.
Invest in an RV Seat Replacement
Complete your remodel with a high-quality leather RV seat replacement. These products maximize comfort during long trips. You can shop for dozens of colors to match your new interior design.
Professional upholsterers can help you choose the right product to create a seamless look.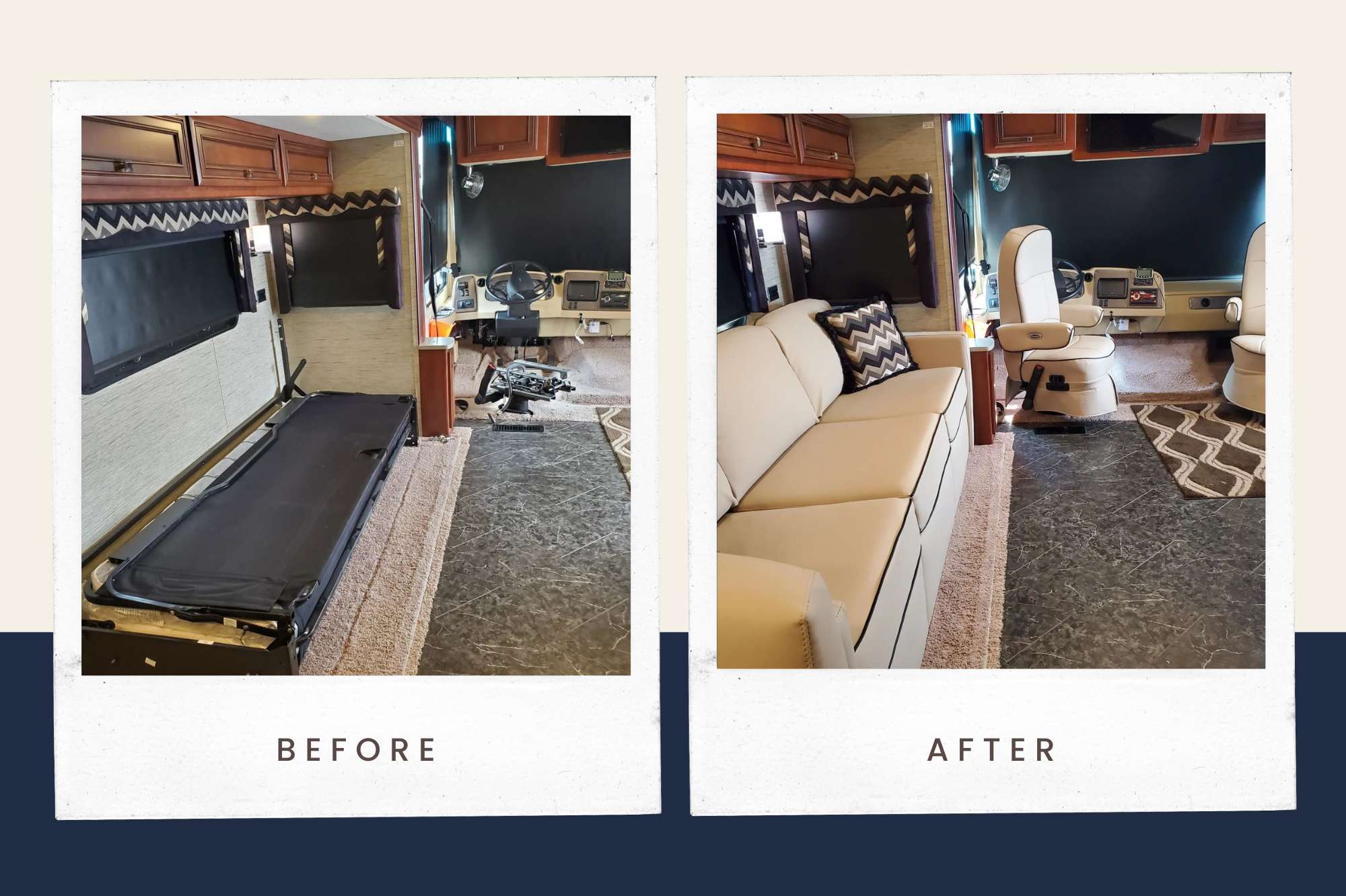 Place New Flooring
Did you know you can replace the floors in RVs and camper vans? Choose sleek hardwood or tile flooring to modernize your tiny home on wheels. You can even shake things up by installing different colors and patterns for each room.
Add a Fresh Coat of Paint
A fresh coat of paint can really bring your RV's interior to life. Professional designers recommend cleaning your surfaces of dirt and oils before adding any color to the walls. This way, you avoid patchiness or uneven streaks while painting.
Many RVs have textured interior walls, so you may not need to prime them before applying a new coat of paint.
Install New Hardware and Lighting
Stock up on new hardware for your RV remodel before and after you finish painting.
Install cabinetry, electric appliances, a dining table, and more to complement your walls and flooring. Changing your lighting fixtures will promote a cozy environment. For example, dynamic LED bulbs give you the freedom to customize the color and intensity of your interior lighting throughout the day.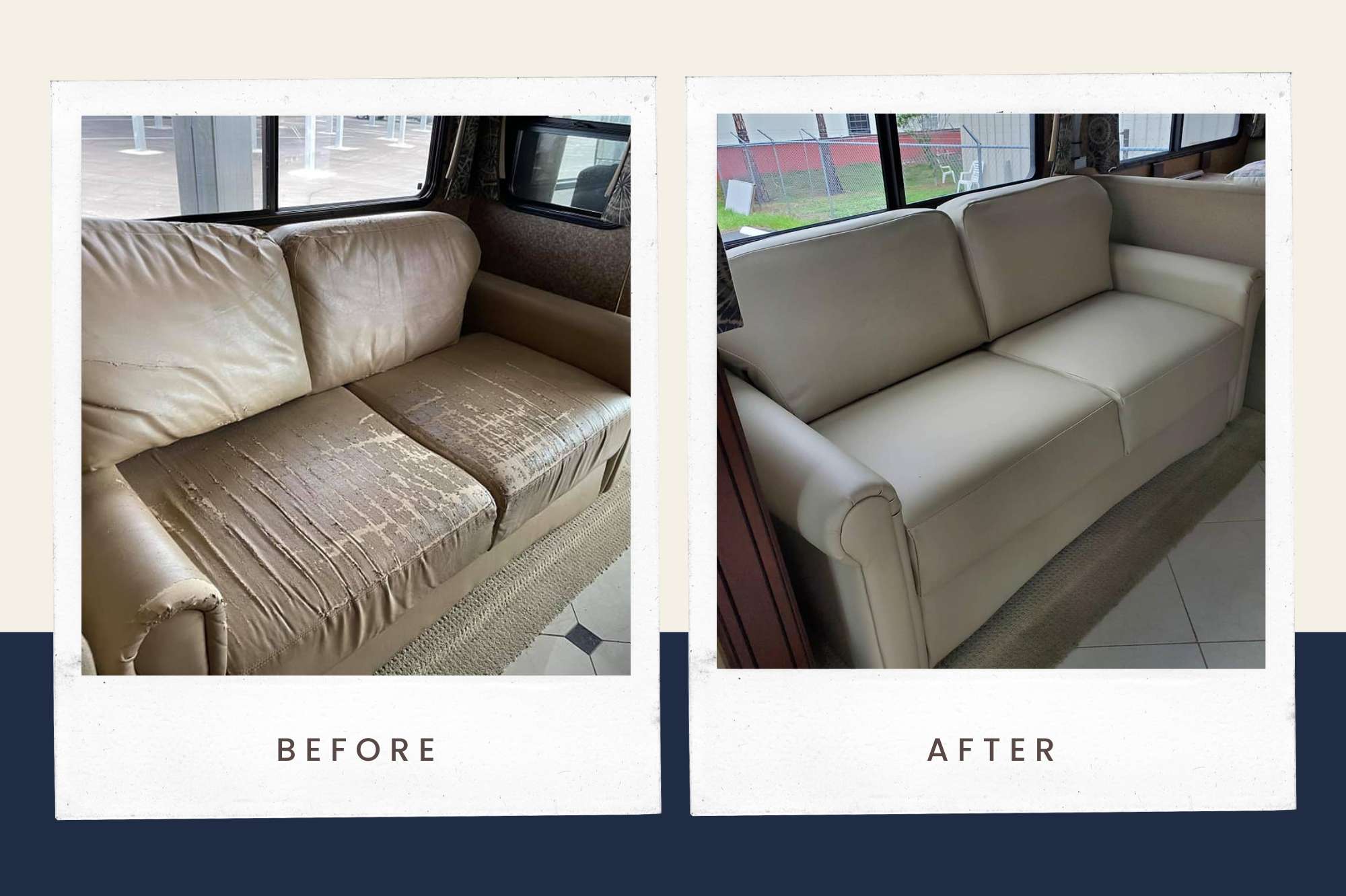 Let a Leather Repair Professional Do the Hard Work for You
An RV renovation can be a hassle without the right products and experience. Fortunately, you don't have to do it all alone. At Leather Medic, we help hundreds of customers repair and improve their interior seating with leather finish repairs and replacements.
We supply superior materials and outstanding craftsmanship to ensure you get the most out of your RVs, boats, or aircraft. No matter the challenge, our upholstery specialists promise to provide unmatched customer service and communication.
Schedule an RV remodel before and after seat refinishing with Leather Medic. Contact our Fort Myers, FL, office at (239) 482-2027.